C# DataGridView Database Operations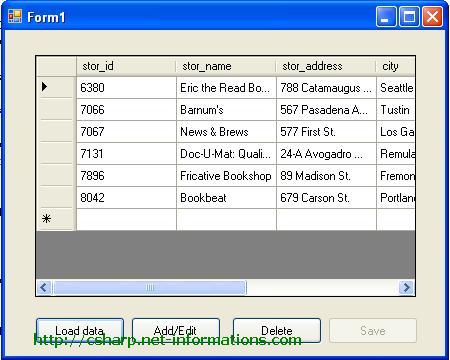 The DataGridView can display data in Bound mode, unbound mode and Virtual mode . Bound mode is suitable for managing data using automatic interaction with the data store. One very common use of the DataGridView control is binding to a table in a database. Unbound mode is suitable for displaying relatively small amounts of data that you manage programmatically. Virtual mode gives you a higher degree of control by allowing you to wait until a cell is actually being displayed to provide the value it will contain.
The following C# source code illustrate how to connect a DataGridView to a database and new/update or delete the database values from DataGridView.
using System;
using System.Data;
using System.Windows.Forms;
using System.Data.SqlClient;

namespace WindowsFormsApplication1
{
    public partial class Form1 : Form
    {
        SqlCommand sCommand;
        SqlDataAdapter sAdapter;
        SqlCommandBuilder sBuilder;
        DataSet sDs;
        DataTable sTable;        

        public Form1()
        {
            InitializeComponent();
        }

        private void button1_Click(object sender, EventArgs e)
        {
            string connectionString = "Data Source=.;Initial Catalog=pubs;Integrated Security=True";
            string sql = "SELECT * FROM Stores";
            SqlConnection connection = new SqlConnection(connectionString);
            connection.Open();
            sCommand = new SqlCommand(sql, connection);
            sAdapter = new SqlDataAdapter(sCommand);
            sBuilder = new SqlCommandBuilder(sAdapter);
            sDs = new DataSet();
            sAdapter.Fill(sDs, "Stores");
            sTable = sDs.Tables["Stores"];
            connection.Close();
            dataGridView1.DataSource = sDs.Tables["Stores"];
            dataGridView1.ReadOnly = true;
            save_btn.Enabled = false;
            dataGridView1.SelectionMode = DataGridViewSelectionMode.FullRowSelect;
        }

        private void new_btn_Click(object sender, EventArgs e)
        {
            dataGridView1.ReadOnly = false;
            save_btn.Enabled = true;
            new_btn.Enabled = false;
            delete_btn.Enabled = false;
        }

        private void delete_btn_Click(object sender, EventArgs e)
        {
            if (MessageBox.Show("Do you want to delete this row ?", "Delete", MessageBoxButtons.YesNo) == DialogResult.Yes)
            {
                dataGridView1.Rows.RemoveAt(dataGridView1.SelectedRows[0].Index);
                sAdapter.Update(sTable);
            }
        }

        private void save_btn_Click(object sender, EventArgs e)
        {
            sAdapter.Update(sTable);
            dataGridView1.ReadOnly = true;
            save_btn.Enabled = false;
            new_btn.Enabled = true;
            delete_btn.Enabled = true;
        }
    }
}