C# ListView Control
The ListView control is an ItemsControl that is derived from ListBox.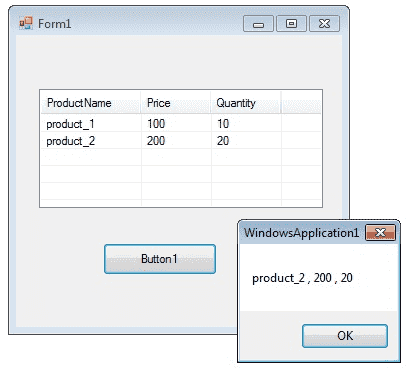 ListView provides a large number of properties that provide flexibility in appearance and behavior. The View property allows you to change the way in which items are displayed. The SelectionMode property for a ListView determines how many items a user can select at one time.
The following C# program first set its view property as Details and GridLines property as true and FullRowSelect as true.
  listView1.View = View.Details;
  listView1.GridLines = true;


  listView1.FullRowSelect = true;
After that it fills column header and then the column values.
  listView1.Columns.Add("ProductName", 100);
Finally in the button click event, it will display the selected row values in a message box.
using System;
using System.Drawing;
using System.Windows.Forms;

namespace WindowsFormsApplication1
{
    public partial class Form1 : Form
    {
        public Form1()
        {
            InitializeComponent();
        }

        private void Form1_Load(object sender, EventArgs e)
        {
            listView1.View = View.Details;
            listView1.GridLines = true;
            listView1.FullRowSelect = true;

            //Add column header
            listView1.Columns.Add("ProductName", 100);
            listView1.Columns.Add("Price", 70);
            listView1.Columns.Add("Quantity", 70);

            //Add items in the listview
            string[] arr = new string[4];
            ListViewItem itm ;

            //Add first item
            arr[0] = "product_1";
            arr[1] = "100";
            arr[2] = "10";
            itm = new ListViewItem(arr);
            listView1.Items.Add(itm);

            //Add second item
            arr[0] = "product_2";
            arr[1] = "200";
            arr[2] = "20";
            itm = new ListViewItem(arr);
            listView1.Items.Add(itm);
        }

        private void button1_Click(object sender, EventArgs e)
        {
            string productName = null;
            string price = null;
            string quantity = null;

            productName = listView1.SelectedItems[0].SubItems[0].Text;
            price = listView1.SelectedItems[0].SubItems[1].Text;
            quantity = listView1.SelectedItems[0].SubItems[2].Text;

            MessageBox.Show (productName + " , " + price + " , " + quantity);
        }
    }
}
C# GUI - Related Contents